Taurox e. K.: Specialists in thread machining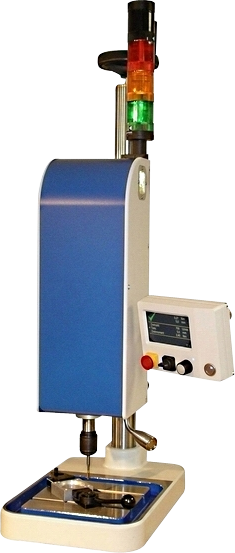 Taurox e. K. presents innovation in torque monitored tapping! Our machines are used for thread cutting and forming. They also offer solutions for other torque monitored applications, such as thread gauging and the insertion of threaded bushings or bolts. The Tauro® product lines cover several ranges of power with a thread cutting capacity from M0.8 to M22 and 0.03 Nm to 90 Nm. Tauro® branded machines are ideal for all jobs whether they're single parts and prototypes or high volume automated manufacturing.
Microtap USA's unique advantage is Tauro® tapping machines: They continuously monitor all process operations and intervene before a tool breaks or a part is damaged. Tauro® machines are ideally suited for various industries because of their high quality of the material processing and ability to be integrated into existing automated manufacturing. Applications range from small shops to production plants for metal, plastic and sheet metal machining. Users in the automotive industry and its suppliers, the aerospace industry, optics, and medical-technology manufacturing all benefit from the Tauro® threading machines.
Talk to us about your requirements
As specialists in the field of thread machining we offer you professional consulting and technical support for the integration of machinery plus intelligent implementation. We take the time to adjust and integrate the Tauro® and Taurox® products into your existing automation solution.
Tauro® Advantages in a Nutshell
Continuously adjustable speed from 25 to 3000 rpm depending on model
Continuously adjustable torque from 0.03 Nm to 90 Nm
Rapid dynamic response with synchronous servo technology
Intelligent control and workpiece machining
Smooth and reliable running performance
Machining with carbide tools
Graphic display of all settings with a menu-guided user interface
Modular design and PLC interface
Useful for a variety of applications
Robust and maintenance-free
Tauro® / Taurox® thread machining convinces users
Exact monitoring, measuring and process optimization of process parameters, contributes to quality assurance during the machining process.
Production costs are significantly reduced with no tool breakage or materia reject.
Optimize process parameters to increase tool life.